Customer Reviews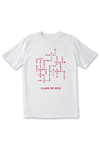 Billie G
"Great product, I just purchase a t-shirt for my grandson for his Eagle Scout ceremony. The shirt had all of the merit badges shown in the matrix and his name and Eagle Scout event for the title. I also purchase on for several relates. This was a real hit at the event."

Sarah E
"We work with a group that builds robots for high school students. The team works for 6 weeks to finish the robot build. I ordered shirts with the team logo on the front and the names of all the students show in the matrix. Below the matrix was the text "TEAMWORK" Had parents ask me order additional shirts."
David Burkemper
"My mother had a tear in her eye when she opened my gift that I ordered from this web site. She thought it was so thoughtful...but I only spent a few short minutes on this site. Thanks Family Matrix."
Write a Comment