Personalized Graduation Gifts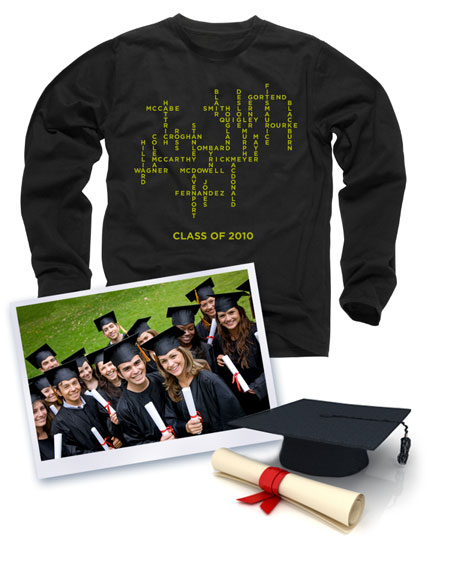 Grade school, high school and college graduations are a very special time in one's life and should be celebrated with a personalized graduation gift to remember this day forever. Imagine having the whole graduating class wear a Family Matrix shirt or sweatshirt with everyone in the class represented on the shirt, with their names arranged into a crossword-style design.
A Family Matrix shirt or mug is a graduation gift that will last a lifetime. Of all the graduation gift ideas, this personalized graduation gift will be sure to please the graduates. The crossword matrix design connects all of the graduate's names and shows unity at a time when this group will be going their separate ways.
Having a Family Matrix tee shirt or mug as a party favor is an excellent graduation party idea because the item commemorates the last time that this graduation class will all be together in the same place. What a great gift to the graduates!
Your new graduates will remember your graduation party forever and treasure this unique, personalized gift idea. The Family Matrix sweatshirt, tee shirt or mug is great for college graduation gifts, high school graduation gifts or even grade school graduation gifts! Bottom line, Family Matrix is the PERFECT graduation gift.