New Parent Gifts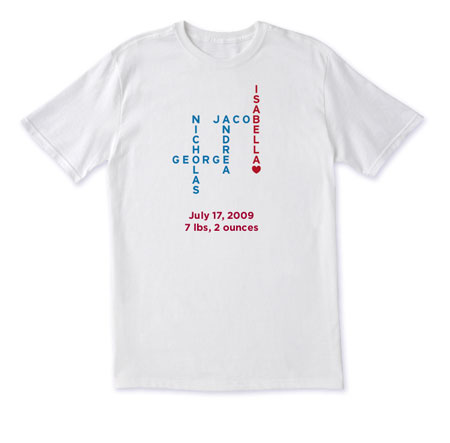 Family Matrix - the PERFECT personalized baby gift to give when your newborn baby arrives. Imagine having a newborn baby gift that includes not only your new arrival, but also the whole family, and this gift have every member of the family represented on a tee shirt, sweatshirt or mug, in a crossword style design.
Whether it is a baby shower gift, a baby boy gift, or a baby girl gift, a Family Matrix shirt is the best baby gift because it commemorates an addition to the family while also demonstrating family unity.
The crossword matrix design on the Family Matrix sweatshirt, tee shirt or mug connects all of the family's names and shows unity at a time in your life that is undergoing big changes. Family Matrix can draw a family together.
Family Matrix is a fantastic gift for moms, too. Imagine designing a personalized baby gift for mom that includes all of her children's names in a crossword style design. Family Matrix shirts are perfect for baby gifts for dads too.
A newborn baby is special, and this special, once-in-a lifetime moment should be celebrated with family and friends. This year give your loved ones a cool gift that reminds them of everyone in the family with a personalized baby gift from Family Matrix.